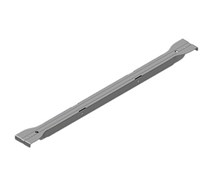 Cross beam / Pallet support bars
To support pallets in front-to-back direction directly on the beam (without front to back base boards).
Example: the crosswise storage of EURO pallets. The top surface of the bars is 5 mm above the upper surface of the beam.
These crossbeams are also used to support the spacers within tunnel guards.
Cross beams must always be used in pairs and can be used with BX- beams with a depth of 40mm or 50mm. This does not affect the overall dimensions of a cross beam.
Standard Finish = Pre-galvanised steel
IMPORTANT:
Supporting beams must be designed to accept point loads
Dimensions:
Suitable for frame depths 800, 900, 1050 and 1100 mm
Maximum load per support per pair:
Frame depth 600 mm: 1100 kg
Frame depth 800 mm: 1100 kg
Frame depth 900 mm: 1100 kg
Frame depth 1000 mm: 1050 kg
Frame depth 1050 mm: 1025 kg
Frame depth 1100 mm: 1000 kg
Frame depth 1250 mm: 800 kg